Welcome to V-STAR Financial Strategies
Protect your business, your family, your future, and your finances
V-Star Financial Strategies is a financial brokerage which specializes in finding the best protective strategies for you and your business. We believe in empowering YOU to make the best decision for your own life, both now and in retirement. When you receive solid advice and education, and are presented with an array of excellent options, you will make the best choice for yourself and your future.

First, protect your business, your mortgage, your family, your future, and your finances! Safeguard yourself against the 5 Key Threats to your financial future! V-Star Financial Education offers Financial Workshops for you and your employees to help them in the various stages of their financial planning: Financial Literacy, The Basics of Financial Planning and Asset Allocation, and Pre-Retirement Financial Planning. These workshops are full of helpful tools and guidelines.

Below are some comments and reviews from the participants in our workshops:
What a fabulous presentation you gave at the pre retirement seminar. I learned a huge amount … so impressed by your clarity.
Very interesting session. Thanks so much for the information.
Good presentation today, very knowledgeable.
You gave us lots of interesting options to consider.
Working with you has been fabulous and easy---thank you!
Many thanks for today's great presentation!
Thanks so much for a great presentation.
I enjoyed talking with you and learned so much from our conversation. Thank you very much for the webinar you held a couple of days ago. I found it extremely interesting.
Your financial seminar was very informative and helpful---you are very clear to understand.
I learned so much from your presentation---only 45 minutes, and you made things so clear and useful!
Thanks for the tools you gave us---my wife and I will begin right away.
Meet Judy Viccellio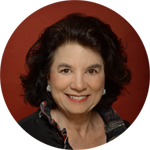 Judy Viccellio was named a Top Financial Advisor for 2022 by Northern Virginia Magazine. Judy brings three decades of experience in the financial services industry. Previously, as a Senior Partner with New York Life, she managed one of the top financial teams in the company. Judy leads Financial Workshops for organizations and businesses, including the World Bank and the American Legion. These workshops are focused on the importance of Financial Literacy and Pre-Retirement Planning. Judy's primary focus is on PROTECTION: Protection of your family, your future, and your finances.

Judy's financial mission is summed up in 3 V's:

"I help you reach your VISION, honor your VALUES, with VERSATILITY for the curves in the road."